DOT Drug Testing in Port Sulphur, LA
Local Testing Centers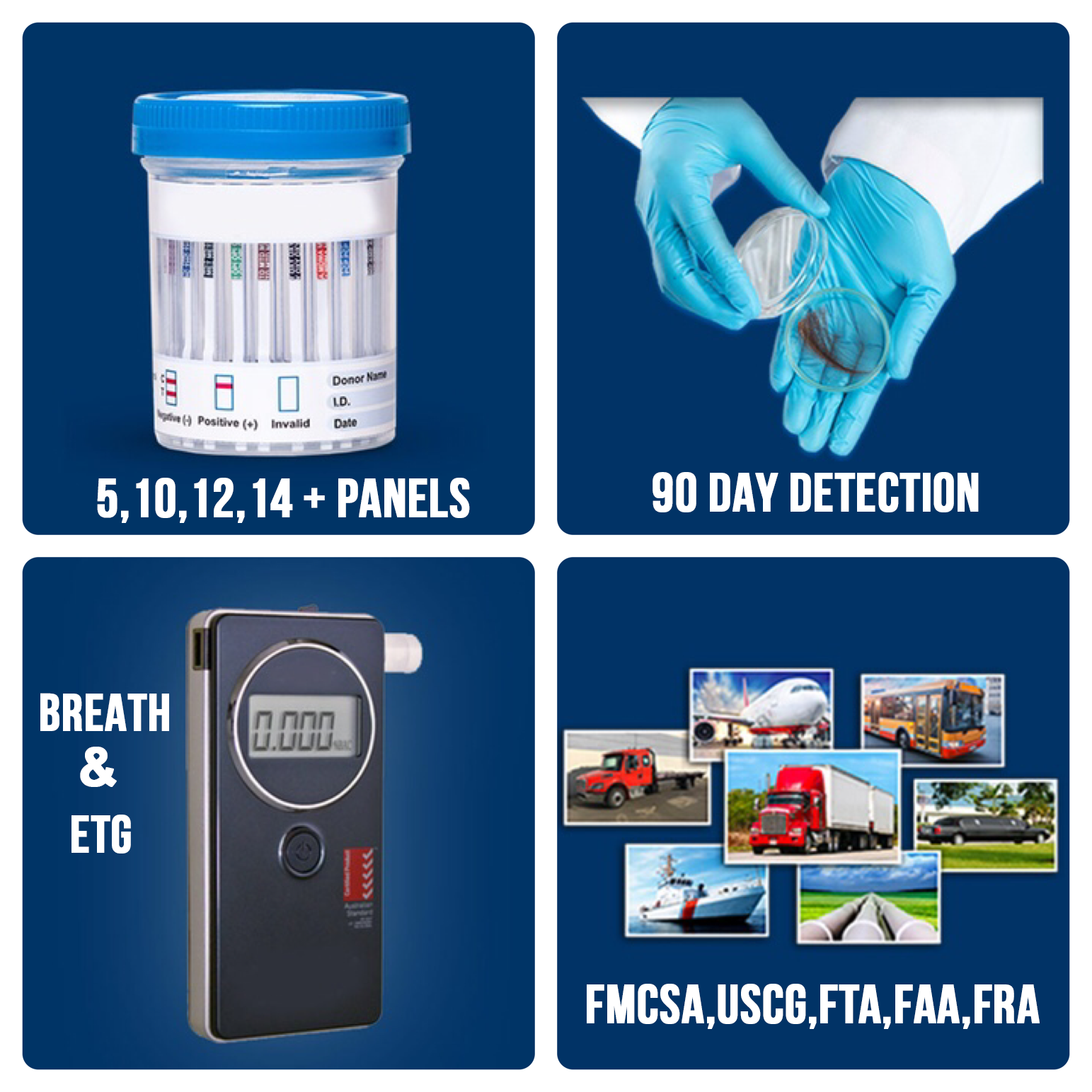 We provide Port Sulphur Louisiana DOT Drug Testing, DOT Alcohol Testing, DOT Physicals and DOT Consortium enrollment at locations throughout the State of Louisiana. Our Port Sulphur, LA DOT Drug Testing locations are within minutes of your home or office. Same day service is available in most places.
The staff of Smart Drug Testing is trained and certified in Louisiana DOT drug testing procedures and all Port Sulphur, LA DOT drug tests are analyzed by a SAMHSA Certified Laboratory and reviewed by our licensed physicians, who serve as the Medical Review Officers (MRO). To schedule a DOT drug test at any of our Louisiana locations, call (800) 977-8664 or you may schedule your test 24/7 by clicking the "Order your Test" button.
Please be aware that our Louisiana DOT drug testing centers do not accept any form of payment and require a test registration/ donor pass to administer a drug, alcohol, or any other type of test. You must call (800) 977-8664 to register for a test or you may register online, no appointment is needed, but a test registration form is required. Your zip code will be used to find our closet drug testing center to perform the drug or alcohol test which is needed.
Our Louisiana drug testing services are delivered with the highest commitment to customer satisfaction and we are dedicated to providing convenient, cost effective and confidential drug and alcohol testing services with one of the fastest results reporting methods available in the industry. Regardless if you are an individual ordering one test or an employer scheduling 100 tests, our commitment to providing outstanding customer service is the same. We also only use certified laboratories and all test results are verified by our Medical Review Officers (MRO).
On the road or on vacation? No worries. Smart Drug Testing has over 10,000 Drug and alcohol testing centers available in all cities and we can schedule your DOT Drug test, ANYWHERE, ANYTIME!
What is a DOT drug test?
A DOT Drug test is a drug test that's regulated by the government, specifically, the Department of Transportation (DOT).
In 1991, the US Congress passed the Omnibus Transportation Employee Testing Act when they recognized the need for a drug and alcohol-free transportation industry. The act required DOT agencies to implement drug and alcohol testing of safety-sensitive employees to maintain the safety of the traveling public and workers.
The DOT's drug screening rules and procedures are listed within Title 49 of the Code of Federal Regulations (CFR) Part 40, commonly known as "Part 40." These rules are published by an office within the DOT; the Office of Drug & Alcohol Policy & Compliance (ODAPC).
DOT agencies and the U.S. Coast Guard write industry specific regulations that explain who is subject to testing, when, and in what situations. Industry employers implement the regulations that apply to their business.
Order a DOT Drug Test
Does your business fall under the jurisdiction of the Department of Transportation? Smart Drug Testing is a professional at establishing and administering DOT-compliant testing programs for any business in the transportation industry. We're a consortium and third-party administrator, and we can manage your entire drug testing process from start to finish.
If you are a DOT-regulated company required to have a DOT-compliant drug and alcohol program in place, we can provide your business with complete driver drug and alcohol testing and program services. These include:
Writing your drug-free workplace policy
Collecting specimens and conducting driver drug and alcohol testing
Having all results verified by a medical review officer (MRO)
Training your Designated Employer Representative
Introduction to Port Sulphur
Port Sulphur is a census-designated place (CDP) on the West Bank of the Mississippi River in Plaquemines Parish, Louisiana, United States. The population was 1,760 at the 2010 census.
The name Port Sulphur derives from the Freeport Sulphur Company in the early 1930s, when it set up logistics, refining, storage and shipping operations to support its Frasch Process sulphur mine at Lake Grande Ecaille, located 10 miles west of the town in the nearby marsh. The Grande Ecaille mine was the largest sulphur deposit in the world when it began operation in 1933, and remained in production until 1978. Over time, as other discoveries were made, the Freeport Sulphur Company also used the Port Sulphur facility to support their other Frasch Process sulphur mines located at Garden Island Bay, Lake Pelto, and Caillou Island; a land-based mine at Chacahoula; the first offshore sulphur mines at Grand Isle and Caminada Pass; and a large operation 50 miles offshore from the Mississippi River Delta in 300 feet of water, at Main Pass Block 299 in the Gulf of Mexico. The facility was also used to process and ship recovered sulphur obtained by oil and gas refining. The terminal was able to filter and store liquid hot molten sulphur in large insulated heated tanks, and "vat" liquid sulphur into acres of long term dry storage by forming blocks of bright yellow sulphur by spraying molten sulphur into metal forms on the ground and allowing to cool. The site is valuable because of its proximity to sulphur producing areas near the Gulf of Mexico, its docking sites along the Mississippi River and back bay marsh.
Port Sulphur was originally a typical company town, with its residents and civic life closely tied to the Freeport Sulphur Company. As the company divested itself of much of the town property and governance, it became more of a regular town with private individual land ownership. As the number of employees at the site dwindled, the Freeport Company became less important in everyday life and economic activity. At some point, most of the company-owned land not necessary for the sulphur operation was transferred to Plaquemines Parish or sold to private owners. The economic fortunes of the Freeport Sulphur Company declined during the 1980s and 1990s, resulting from the competitive forces of recovered Sulphur processed from sour oil & gas. In the early 2000s Freeport Sulphur shut down operations, as the price of sulphur dropped too low because large amounts of sulphur recovered during petroleum refining and from Canadian natural gas exploration were dumped on the international sulphur market. With inexpensive recovered sulphur in large supply, the large scale and expensive Frasch Process sulphur mining and storage operations proved to be uneconomical and were discontinued. The Freeport-McMoRan Port Sulphur facility was closed and sold. Hurricane Katrina destroyed much of what was left of the sulphur facility in August 2005, with a few buildings remaining. With the closing of Freeport-McMoRan Sulphur, the town has been seeking another economic identity.
What do DOT drug tests test for?
All DOT drug tests use the same 5-panel test. It tests for:
Marijuana metabolites/THC
Cocaine metabolites
Amphetamines (including methamphetamine, MDMA)
Opioids* (including codeine, heroin (6-AM), morphine, hydrocodone, oxycodone, hydromorphone, and oxymorphone)
Phencyclidine (PCP)
Although there are several options for drug tests, DOT regulated drug tests must use urine samples.
When are safety-sensitive employees required to get DOT drug tests?
DOT drug tests are required in the following situations:
Pre-employment, or before you start your job responsibilities.
Reasonable suspicion/cause, or if one or more trained supervisors reasonably believes/suspects that you are under the influence of drugs. This must be based on observations concerning appearance, behavior, speech, smell, etc.
Random testing. Random tests must use a truly random selection process, each employee must have an equal chance to be selected and tested. These are completed quarterly.
Return-to-duty testing, which is required after a violation of drug and alcohol rules. You can't return to any DOT job before being tested and may be subject to unannounced testing at least 6 times in first 12 months. These tests must be conducted under direct observation.
Follow-up testing that takes place after return-to-duty. A Substance Abuse Professional (SAP) manages the follow-up testing for up to 5 years, determining how many times an employee is tested, and for what substance. These are completed in addition to other DOT required testing.
Post-accident testing. This is required if you're involved in an accident meeting certain DOT criteria. An alcohol test must occur within 8 hours of the accident, and a drug test within 32 hours.
What happens if I fail my DOT drug test?
If you fail your DOT regulated drug test, DOT regulations require your employer to immediately remove you from performing any DOT safety-sensitive job. There may be other consequences, too, like losing your certification or license. This depends on your company's policy or employment agreement.
DOT Drug Testing Locations in Port Sulphur LA
27136 HIGHWAY 23
27136 HIGHWAY 23
Port Sulphur, LA 70083
Categories: Port Sulphur LA
27136 HIGHWAY 23
27136 HIGHWAY 23
Port Sulphur, LA 70083
Categories: Port Sulphur LA
(Don't see a location near you? Call us (800) 977-8664)
Smart Drug Testing workforce experts stay up-to-date on DOT regulations, and can ensure that your business maintains compliance. If you're interested in using our regulated drug testing services, connect with a member of our team. Our clinics also have a certified medical examiner on hand at all times to perform DOT physicals.
FAQ's About DOT Testing in Port Sulphur, LA
DOT Drug Testing Locations near Port Sulphur, Louisiana