DOT Drug Testing in Rocky Mount, VA
Local Testing Centers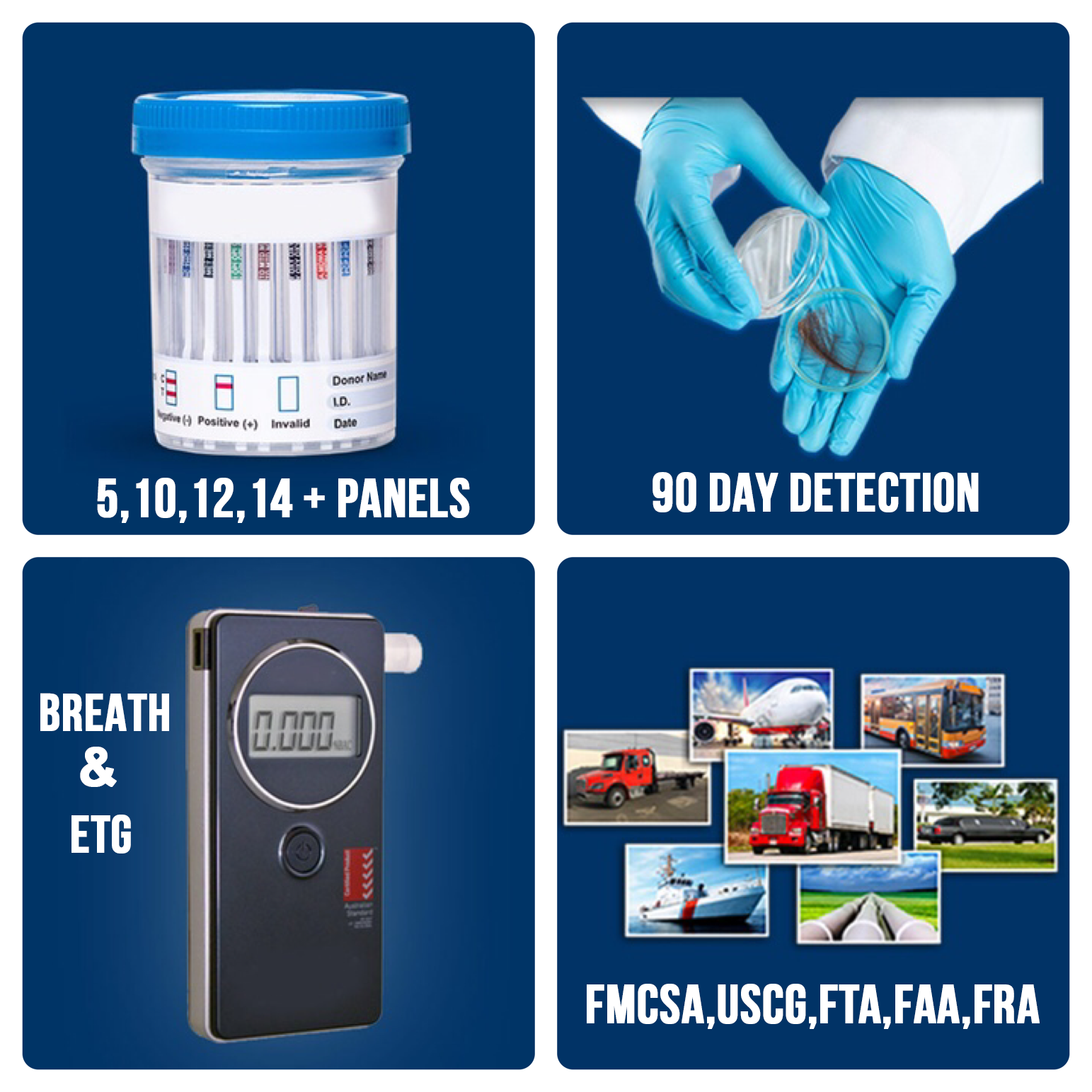 We provide Rocky Mount Virginia DOT Drug Testing, DOT Alcohol Testing, DOT Physicals and DOT Consortium enrollment at locations throughout the State of Virginia. Our Rocky Mount, VA DOT Drug Testing locations are within minutes of your home or office. Same day service is available in most places.
The staff of Smart Drug Testing is trained and certified in Virginia DOT drug testing procedures and all Rocky Mount, VA DOT drug tests are analyzed by a SAMHSA Certified Laboratory and reviewed by our licensed physicians, who serve as the Medical Review Officers (MRO). To schedule a DOT drug test at any of our Virginia locations, call (800) 977-8664 or you may schedule your test 24/7 by clicking the "Order your Test" button.
Please be aware that our Virginia DOT drug testing centers do not accept any form of payment and require a test registration/ donor pass to administer a drug, alcohol, or any other type of test. You must call (800) 977-8664 to register for a test or you may register online, no appointment is needed, but a test registration form is required. Your zip code will be used to find our closet drug testing center to perform the drug or alcohol test which is needed.
Our Virginia drug testing services are delivered with the highest commitment to customer satisfaction and we are dedicated to providing convenient, cost effective and confidential drug and alcohol testing services with one of the fastest results reporting methods available in the industry. Regardless if you are an individual ordering one test or an employer scheduling 100 tests, our commitment to providing outstanding customer service is the same. We also only use certified laboratories and all test results are verified by our Medical Review Officers (MRO).
On the road or on vacation? No worries. Smart Drug Testing has over 10,000 Drug and alcohol testing centers available in all cities and we can schedule your DOT Drug test, ANYWHERE, ANYTIME!
What is a DOT drug test?
A DOT Drug test is a drug test that's regulated by the government, specifically, the Department of Transportation (DOT).
In 1991, the US Congress passed the Omnibus Transportation Employee Testing Act when they recognized the need for a drug and alcohol-free transportation industry. The act required DOT agencies to implement drug and alcohol testing of safety-sensitive employees to maintain the safety of the traveling public and workers.
The DOT's drug screening rules and procedures are listed within Title 49 of the Code of Federal Regulations (CFR) Part 40, commonly known as "Part 40." These rules are published by an office within the DOT; the Office of Drug & Alcohol Policy & Compliance (ODAPC).
DOT agencies and the U.S. Coast Guard write industry specific regulations that explain who is subject to testing, when, and in what situations. Industry employers implement the regulations that apply to their business.
Order a DOT Drug Test
Does your business fall under the jurisdiction of the Department of Transportation? Smart Drug Testing is a professional at establishing and administering DOT-compliant testing programs for any business in the transportation industry. We're a consortium and third-party administrator, and we can manage your entire drug testing process from start to finish.
If you are a DOT-regulated company required to have a DOT-compliant drug and alcohol program in place, we can provide your business with complete driver drug and alcohol testing and program services. These include:
Writing your drug-free workplace policy
Collecting specimens and conducting driver drug and alcohol testing
Having all results verified by a medical review officer (MRO)
Training your Designated Employer Representative
Introduction to Rocky Mount
Rocky Mount is a town in and the county seat of Franklin County, Virginia, United States. The town is part of the Roanoke Metropolitan Statistical Area, and had a population of 4,799 as of the 2010 census. It is located in the Roanoke Region of Virginia.
Although Robert Hill built a block house (fortified residence and trading post) in the 1740s, the first English colonists arrived here in 1760, and they named Rocky Mount for a steep cliff near the town. The area originally consisted of two adjacent villages, Rocky Mount and Mount Pleasant. Washington Iron Furnace was built by James Callaway and Jeremiah Early on what is now Main Street slightly outside what is now the historic district, and operated by Calloway's heirs and Peter Saunders until damaged by a flood in 1850, with rebuilding stopped by the Civil War. The first court session was held at Rocky Mount in 1786 following the Revolutionary War, in Callaway's home until he deeded land to the town on which to build the (log) courthouse. Rocky Mount had a post office in 1795. The town was divided into lots in 1804. Jeremiah's son John Early represented the county (part-time) in the Virginia House of Delegates and served as sheriff as well as operated a plantation nearby. The courthouse was replaced in 1831. By 1836 the iron furnace employed 100 people and the town had about 275 residents, included 30 homes and several businesses including 3 grocery stores and a newspaper/printing office. The oldest dwelling is "Mount Pleasant", built overlooking the courthouse in 1829 for Caleb Tate (the court clerk from 1797-1835); the detached brick kitchen built circa 1820 is the oldest building in town. The Rocky Mount Turnpike Company incorporated in 1846 and a bank shortly afterward, but neither prospered.
During the Civil War, numerous planter families from the Tidewater region sought refuge in Rocky Mount, and many brought substantial numbers of slaves with them. Among these were the immediate past governor, Henry A. Wise, who settled his family here before he became a Confederate general. Jubal Anderson Early, who became a Confederate general during the war, was born on a farm nearby, and served as one term in the Virginia House of Delegates representing the county (succeeded by his mentor Norborne Taliaferro, who later became a judge) and more than a decade as Commonwealth's attorney (prosecutor) before the war, then resumed his legal practice here and in Lynchburg, Virginia after the war's end (although the building which served as his law office was razed in 1937). The only building constructed in that era and surviving today was constructed for Dr. Thomas Greer in 1861. Two other buildings constructed in 1850-1854 and used as law offices still survive. The town's clerk, Robert A. Scott, issued scrip to assist families of Confederate soldiers during the Civil War, and the Confederate government also requisitioned slaves from various county landowners to work on Richmond's defenses. The town experienced no battles, although Union Gen. George Stoneman and troops passed through the county in the war's final days. In 1867, the Freedman's Bureau under William F. DeKnight opened a Sunday school in Rocky Mount, about a third of whose residents at the time were African American, but efforts to establish a day school didn't succeed until much later, which is one of the reasons Booker Taliaferro Washington, born enslaved in Franklin County, moved with his mother to West Virginia for his education, and later studied at the Hampton Institute at the other side of the state.
What do DOT drug tests test for?
All DOT drug tests use the same 5-panel test. It tests for:
Marijuana metabolites/THC
Cocaine metabolites
Amphetamines (including methamphetamine, MDMA)
Opioids* (including codeine, heroin (6-AM), morphine, hydrocodone, oxycodone, hydromorphone, and oxymorphone)
Phencyclidine (PCP)
Although there are several options for drug tests, DOT regulated drug tests must use urine samples.
When are safety-sensitive employees required to get DOT drug tests?
DOT drug tests are required in the following situations:
Pre-employment, or before you start your job responsibilities.
Reasonable suspicion/cause, or if one or more trained supervisors reasonably believes/suspects that you are under the influence of drugs. This must be based on observations concerning appearance, behavior, speech, smell, etc.
Random testing. Random tests must use a truly random selection process, each employee must have an equal chance to be selected and tested. These are completed quarterly.
Return-to-duty testing, which is required after a violation of drug and alcohol rules. You can't return to any DOT job before being tested and may be subject to unannounced testing at least 6 times in first 12 months. These tests must be conducted under direct observation.
Follow-up testing that takes place after return-to-duty. A Substance Abuse Professional (SAP) manages the follow-up testing for up to 5 years, determining how many times an employee is tested, and for what substance. These are completed in addition to other DOT required testing.
Post-accident testing. This is required if you're involved in an accident meeting certain DOT criteria. An alcohol test must occur within 8 hours of the accident, and a drug test within 32 hours.
What happens if I fail my DOT drug test?
If you fail your DOT regulated drug test, DOT regulations require your employer to immediately remove you from performing any DOT safety-sensitive job. There may be other consequences, too, like losing your certification or license. This depends on your company's policy or employment agreement.
DOT Drug Testing Locations in Rocky Mount VA
180 FLOYD AVE
180 FLOYD AVE
Rocky Mount, VA 24151
Categories: Rocky Mount VA
19592 VIRGIL H GOODE HWY
19592 VIRGIL H GOODE HWY
Rocky Mount, VA 24151
Categories: Rocky Mount VA
(Don't see a location near you? Call us (800) 977-8664)
Smart Drug Testing workforce experts stay up-to-date on DOT regulations, and can ensure that your business maintains compliance. If you're interested in using our regulated drug testing services, connect with a member of our team. Our clinics also have a certified medical examiner on hand at all times to perform DOT physicals.
FAQ's About DOT Testing in Rocky Mount, VA
DOT Drug Testing Locations near Rocky Mount, Virginia