DOT Drug Testing in Columbia, PA
Local Testing Centers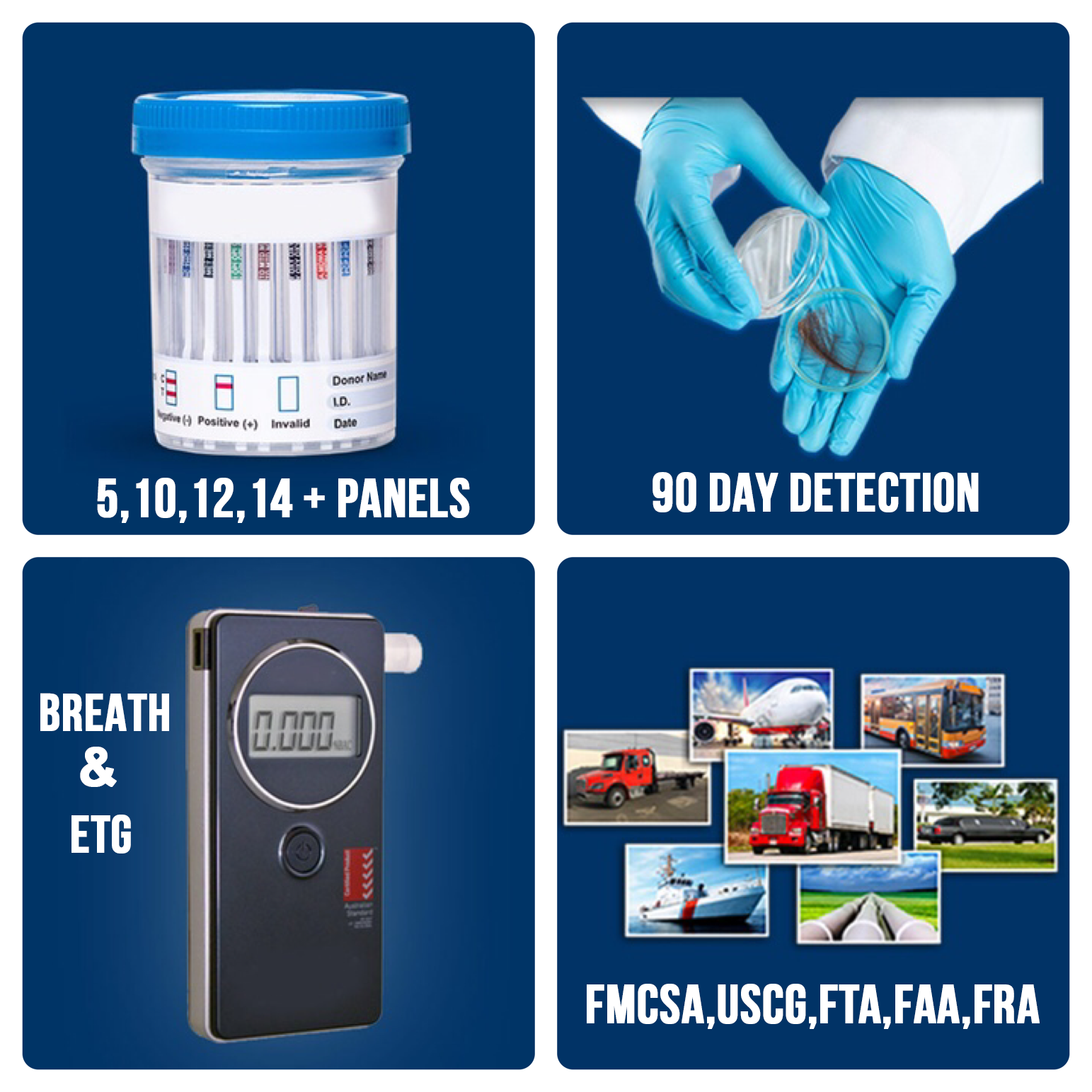 We provide Columbia Pennsylvania DOT Drug Testing, DOT Alcohol Testing, DOT Physicals and DOT Consortium enrollment at locations throughout the State of Pennsylvania. Our Columbia, PA DOT Drug Testing locations are within minutes of your home or office. Same day service is available in most places.
The staff of Smart Drug Testing is trained and certified in Pennsylvania DOT drug testing procedures and all Columbia, PA DOT drug tests are analyzed by a SAMHSA Certified Laboratory and reviewed by our licensed physicians, who serve as the Medical Review Officers (MRO). To schedule a DOT drug test at any of our Pennsylvania locations, call (800) 977-8664 or you may schedule your test 24/7 by clicking the "Order your Test" button.
Please be aware that our Pennsylvania DOT drug testing centers do not accept any form of payment and require a test registration/ donor pass to administer a drug, alcohol, or any other type of test. You must call (800) 977-8664 to register for a test or you may register online, no appointment is needed, but a test registration form is required. Your zip code will be used to find our closet drug testing center to perform the drug or alcohol test which is needed.
Our Pennsylvania drug testing services are delivered with the highest commitment to customer satisfaction and we are dedicated to providing convenient, cost effective and confidential drug and alcohol testing services with one of the fastest results reporting methods available in the industry. Regardless if you are an individual ordering one test or an employer scheduling 100 tests, our commitment to providing outstanding customer service is the same. We also only use certified laboratories and all test results are verified by our Medical Review Officers (MRO).
On the road or on vacation? No worries. Smart Drug Testing has over 10,000 Drug and alcohol testing centers available in all cities and we can schedule your DOT Drug test, ANYWHERE, ANYTIME!
What is a DOT drug test?
A DOT Drug test is a drug test that's regulated by the government, specifically, the Department of Transportation (DOT).
In 1991, the US Congress passed the Omnibus Transportation Employee Testing Act when they recognized the need for a drug and alcohol-free transportation industry. The act required DOT agencies to implement drug and alcohol testing of safety-sensitive employees to maintain the safety of the traveling public and workers.
The DOT's drug screening rules and procedures are listed within Title 49 of the Code of Federal Regulations (CFR) Part 40, commonly known as "Part 40." These rules are published by an office within the DOT; the Office of Drug & Alcohol Policy & Compliance (ODAPC).
DOT agencies and the U.S. Coast Guard write industry specific regulations that explain who is subject to testing, when, and in what situations. Industry employers implement the regulations that apply to their business.
Order a DOT Drug Test
Does your business fall under the jurisdiction of the Department of Transportation? Smart Drug Testing is a professional at establishing and administering DOT-compliant testing programs for any business in the transportation industry. We're a consortium and third-party administrator, and we can manage your entire drug testing process from start to finish.
If you are a DOT-regulated company required to have a DOT-compliant drug and alcohol program in place, we can provide your business with complete driver drug and alcohol testing and program services. These include:
Writing your drug-free workplace policy
Collecting specimens and conducting driver drug and alcohol testing
Having all results verified by a medical review officer (MRO)
Training your Designated Employer Representative
Introduction to Columbia
Columbia, formerly Wright's Ferry, is a borough (town) in Lancaster County, Pennsylvania, 28 miles (45 km) southeast of Harrisburg on the east (left) bank of the Susquehanna River, across from Wrightsville and York County and just south of U.S. Route 30. The settlement was founded in 1726 by Colonial English Quakers from Chester County led by entrepreneur and evangelist John Wright. Establishment of the eponymous Wright's Ferry, the first commercial Susquehanna crossing in the region, inflamed territorial conflict with neighboring Maryland but brought growth and prosperity to the small town, which was just a few votes shy of becoming the new United States' capital. Though besieged for a short while by Civil War destruction, Columbia remained a lively center of transport and industry throughout the 19th century, once serving as a terminus of the Pennsylvania Canal. Later, however, the Great Depression and 20th-century changes in economy and technology sent the borough into decline. It is notable today as the site of one of the world's few museums devoted entirely to horology.
The area around present-day Columbia was originally populated by Native American tribes, most notably the Susquehannocks, who migrated to the area between 1575 and 1600 after separating from the Iroquois Confederacy. They established villages just south of Columbia, in what is now Washington Boro , as well as claiming at least hunting lands as far south as Maryland and Northern Virginia. Captain John Smith reported on the Susquehannock in glowing superlatives when a traveling group visited Jamestown, Virginia; he estimated their numbers to be about 2,000 in the early 1600s. The French ran across them in the area around Buffalo, apparently visiting the Wenro, and suggesting their numbers were far greater. The Province of Maryland fought a declared war for nearly a decade, signing a peace in 1632, against the Susquehannock Confederation who were allied to New Sweden and furnishing fire arms to the Susquehannocks in exchange for furs. The American Heritage Book of Indians reports the tribe occupied the entire Susquehanna Drainage Basin from the divide with the Mohawk River in lower New York State and part of the west side of the Chesapeake Bay in the Province of Virginia, while noting the confederation numbered between 10-20,000 in the mid-1660s when they came close to wiping out two Nations of the Iroquois. An virulent epidemic struck the Susquehannock towns during 1668 or 1669 and is believed to have lasted or recurred or morphed to plagues of other disease possibly killing up to 90% of the Amerindian nations people. By 1671-1672 they were beset on all sides—with attacks from colonial settlers, raids from the weakened Iroquois and the long subjugated Lenape band occupying the Poconos and Lehigh Valley. In that decade, Pennsylvania, Connecticut and New York all claimed the Susquehannock lands of the Wyoming Valley, where the remnants of the nation were to recoil into a few scant under populated towns. In 1678, the Governor of New York would sign a treaty with the League of the Iroquois requiring them to take in the Susquehannocks. The Iroquoian cultures universally supporting adoption, absorbed the people. Small bands moved west across the Susquehanna to new villages such as Conestoga Town and some are believed to have trekked through the gaps of the Allegheny to the virtually empty lands beyond the Alleghenies, perhaps mingling there with other Iroquoian peoples such as the Seneca, Wenro and Erie peoples forming the new clans and towns as the (new) Mingo people whose small bands known to be present in Western Pennsylvania and Eastern Ohio in the early 1800s.
In 1724, John Wright, an English Quaker, traveled to the Columbia area (then a part of Chester County) to explore the land and proselytize to a Native American tribe, the Shawnee, who had established a settlement along Shawnee Creek. Wright built a log cabin nearby on a tract of land first granted to George Beale by William Penn in 1699, and stayed for more than a year. The area was then known as Shawanatown.
What do DOT drug tests test for?
All DOT drug tests use the same 5-panel test. It tests for:
Marijuana metabolites/THC
Cocaine metabolites
Amphetamines (including methamphetamine, MDMA)
Opioids* (including codeine, heroin (6-AM), morphine, hydrocodone, oxycodone, hydromorphone, and oxymorphone)
Phencyclidine (PCP)
Although there are several options for drug tests, DOT regulated drug tests must use urine samples.
When are safety-sensitive employees required to get DOT drug tests?
DOT drug tests are required in the following situations:
Pre-employment, or before you start your job responsibilities.
Reasonable suspicion/cause, or if one or more trained supervisors reasonably believes/suspects that you are under the influence of drugs. This must be based on observations concerning appearance, behavior, speech, smell, etc.
Random testing. Random tests must use a truly random selection process, each employee must have an equal chance to be selected and tested. These are completed quarterly.
Return-to-duty testing, which is required after a violation of drug and alcohol rules. You can't return to any DOT job before being tested and may be subject to unannounced testing at least 6 times in first 12 months. These tests must be conducted under direct observation.
Follow-up testing that takes place after return-to-duty. A Substance Abuse Professional (SAP) manages the follow-up testing for up to 5 years, determining how many times an employee is tested, and for what substance. These are completed in addition to other DOT required testing.
Post-accident testing. This is required if you're involved in an accident meeting certain DOT criteria. An alcohol test must occur within 8 hours of the accident, and a drug test within 32 hours.
What happens if I fail my DOT drug test?
If you fail your DOT regulated drug test, DOT regulations require your employer to immediately remove you from performing any DOT safety-sensitive job. There may be other consequences, too, like losing your certification or license. This depends on your company's policy or employment agreement.
DOT Drug Testing Locations in Columbia PA
(Don't see a location near you? Call us (800) 977-8664)
Smart Drug Testing workforce experts stay up-to-date on DOT regulations, and can ensure that your business maintains compliance. If you're interested in using our regulated drug testing services, connect with a member of our team. Our clinics also have a certified medical examiner on hand at all times to perform DOT physicals.
FAQ's About DOT Testing in Columbia, PA
DOT Drug Testing Locations near Columbia, Pennsylvania